Insight management
We're led by an accomplished coalition of information technology experts, progressive business strategists, and sales and accounting professionals.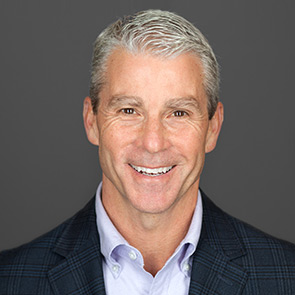 Steve Dodenhoff
President
Insight U.S.
"We are in the midst of great change and tremendous opportunity. Who wouldn't be energized by what's possible?"
Get to know Steve.
Steve Dodenhoff got his start by following numbers. Careful calculation took him first into finance, then to banking and real estate. But a desire to innovate brought him out ahead of the figures: into software and information technology. As Insight's president, Steve's grasp of emerging technologies, and the numbers they can yield, keeps the company on a course for success.
A finance graduate from the University of Colorado–Boulder, Steve was working as a mortgage banker when he noticed a glitch in the loan approval process. So he and his friends started a company that created software to expedite pre-approvals. The company didn't last. But Steve's fascination with IT as a problem-solving mechanism did.
Steve talked his way into the tech sector, convincing MicroAge to look past his financial background and start him as an IT marketing manager. He spent 10 years with MicroAge — partnering with resellers and clients directly, building new capabilities to serve emerging trends, and leading sales and services organizations. He developed a transparent, data-driven leadership style that produced results. His approach took him to Integrated Information Systems. Then, in 2002, Steve was named president at Enghouse Interactive. As a leader there, he directed expansion and acquisitions, and led the software provider to substantial global growth.
Steve joined Insight in 2012, believing the company's capabilities, in-house talent and corporate culture would fit well with his growth-based approach. His commitment to continuous improvement is showing steady and positive results. And Steve is determined to lead Insight to its fullest potential.
Ready to connect your business?
5,100+
software, hardware and cloud partners
4,000+
sales and service delivery professionals
21
countries with Insight operations