Freedom to focus on what matters
In your growing business, you should be able to add users at will, scale with ease and track your IT spend effortlessly. With Insight Managed Office, you get the small business IT support you need to do exactly that.
Cloud solutions and asset management for small business make it easy to give your employees the modern devices they want and the stable, as-a-service pricing you need. We'll help you choose, implement and manage the technology that makes doing business possible.
We've got you covered.
Working smarter is central to your long-term success. We'll help you make the right decisions and technology purchases that will support your goals. Take advantage of all of the offerings under Insight Managed Office, or only the ones you need: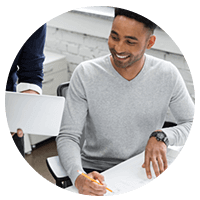 Devices
How are you supporting your end users? Choose from a wide range of laptops, tablets, desktops and more.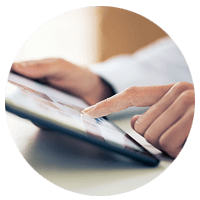 Applications
Cloud-based applications enable work from anywhere, anytime, on any device. And you only pay for what you use.
Managed services
We'll help you get users up and running, monitor usage and optimization, and provide ongoing support.
Modern devices for today's workers
Your designers want Apple® products, your accountants use Windows® desktops, and your sales team needs the flexibility to work on laptops in the office and tablets everywhere else. We allow you to select the devices you want and need with predictable pricing.
When it's time to upgrade, we can procure, image and ship each device to your exact specifications, so you're productive starting day one — right out of the box.
It all starts with Windows 10.
Microsoft® Windows 10 is the perfect plug-and-play motion for businesses of any size. Because Windows 10 is connected to the cloud, updates are performed behind the scenes so your IT team doesn't have to worry about them. The operating system features:
Simplified licensing and billing per user, per month
Integrated security across every device
Versatility and flexibility, covering a variety of devices
Untethered productivity
Your business, customers and employees are mobile. Meet their needs with cloud applications that empower users to be productive from anywhere, at any time.
Office 365® covers of all of your bases, bundling email, calendar, instant messaging, security applications and more. Powered by Windows 10, it gives you a seamless experience on every device.
And, with Microsoft 365™, you get a comprehensive package that further integrates mobility and security.
End-to-end device management
Insight's asset management for small business gives you full coverage on devices from the moment you make a purchase to the day you retire them.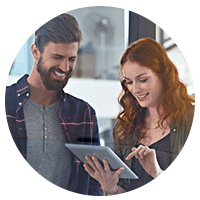 Configuration
We set up your devices, onboard applications and configure everything to your preferences.
Technical support
Our experienced technicians are available to troubleshoot any technology issues that arise.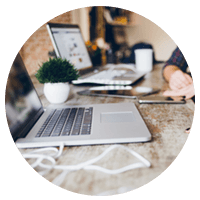 Hardware repair
Our Hot Swap/Spare Program mitigates downtime, replacing identical devices.
How IT can help you achieve your growth goals
What are the challenges your business is facing? Learn how industry leaders are taking advantage of technological advances to meet their business objectives.
Give your IT team the ability to do more.
We'll help you get ahead of the technology curve and accomplish more with managed services and cloud solutions for small business.