Simplify the path to mobility.
Mobile device management for small business enables you to do more. Our bundled solution gives you the freedom to pursue what really matters — growing your business — while using the services and devices you need.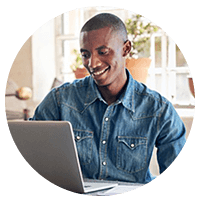 Streamlined management
We'll serve as your single source for service plans, devices, warranties and repair.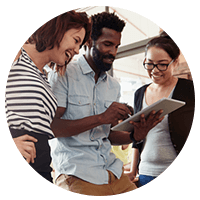 Reliable scalability
Focus on growth without the roadblocks — add lines and devices whenever you need.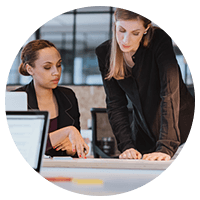 Integrated security
Get protection across all of your endpoints — without sacrificing agility or efficiency.
Address your No. 1 priority — security.
Small businesses are often the target of cyberattacks. Each endpoint represents a potential point of entry for hackers. With the growing trend of employees using personal devices for work tasks, security is more important than ever.
Don't become an easy target. We'll help you lock down every mobile device with small business endpoint protection to safeguard your valuable data. When it's time to retire an asset, we'll provide certificates of erasure so no data gets left behind.
A must for any on-the-go business
Untethered work is a reality in business today. The benefits are clear: better availability, reduced paperwork, higher productivity. But adopting a comprehensive mobility strategy can be highly complex. Until now.
We'll assess your needs and help you get the best plan possible. Simplified billing makes it easy to understand exactly what you get and how to budget for it.
Plan for the inevitable.
Let's face it, accidents happen. And since mobile devices go wherever you do, they're subject to extra wear and tear. Comprehensive warranties cover your devices when something goes wrong, so you never have to worry about downtime.
Find the perfect device.
What matters most to you: long battery life, crystal-clear display, unbeatable processing? Our technology experts can help you choose the right device. We work with mobile technology leaders to provide a range of devices.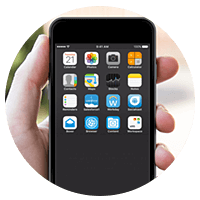 Apple
The iPhone® lets you work seamlessly across all of your Apple® products on devices with elegant user experiences and sleek design.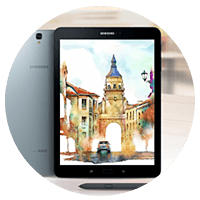 Samsung
Experience flexibility without sacrificing dependability on Android. Samsung gives you the bandwidth to do more with a small device.
Microsoft
Tackle to-do's on a true workhorse with a familiar operating system. Accessories make it simple to customize your device.
Surviving the Age of Mobility
The statistics on mobility in the workplace are growing at a staggering rate. Discover best practices to approach each phase of mobile adoption, from planning to execution and ongoing support.
Ensure a mobile-first business.
We'll help you empower your employees with top-of-the-line devices and end-to-end protection for a productive and secure workplace.