Technology designed to erase friction
Crisp calls and smooth collaboration are a reality for growing businesses when you pair the right technology with a comprehensive management strategy. We match best-in-class tools and devices with your unique needs to help you achieve a truly unified working environment.
Better collaboration can result in increased efficiency, reduced travel expenses and faster decision-making. We'll show you how.
Connect your workforce through cloud solutions.
Cloud-based applications empower your workers to be productive from anywhere. And, with less on-premise technology, there's little to store, maintain and manage. Explore the benefits: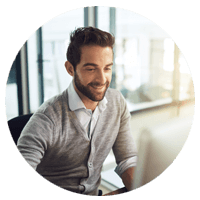 Scalability
It's easy to add users and increase storage quickly as your organization grows.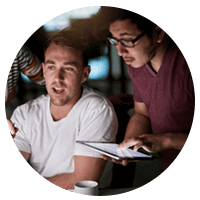 Security
Rest assured your users and your sensitive business information are protected.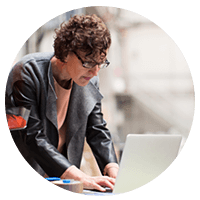 Visibility
Maintain your tools with online management to monitor and track everything.
Modern tools for today's workers
The right collaboration tools make all the difference in business today. Customers and employees alike expect technology that works at their speed. We'll help you make smart IT decisions to create an environment that's perfect for your highly mobile, nimble workforce.
Communicate your way.
Cover all of your bases with chat, videoconferencing and voice. A multiplatform strategy ensures your employees stay engaged to your small business.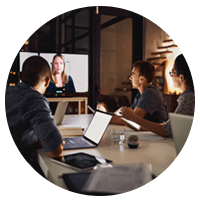 Conference call solutions
Promote collaboration and get conferencing technology that empowers workers to share their ideas and brainstorm new ones.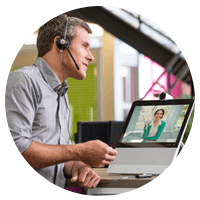 VoIP systems
Use Voice over Internet Protocol (VoIP) and ditch the phone line for more advanced capability and increased reliability.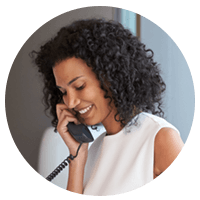 Office phone systems
Traditional voice remains an important tool. Upgrade your office phones and make it easier for your workers to communicate.
We'll help you find the right solution.
Our trained technicians and experienced engineers will evaluate your existing infrastructure and tailor an end-to-end solution to your specific needs. One unified tool will minimize switching between tools and applications.
Incorporate newer collaboration tools with your existing system to maximize your technology investment. We'll help.
Form stronger customer relationships.
A centralized location to store and access all of your account information enables you to get closer to your customers. And customer relationship management services identify patterns and trends so you can capitalize on every opportunity.
Take your business to the next level.
In a survey by Harvard Business Review, 80% of respondents said collaboration technologies are very or extremely important for meeting their business goals. See how collaboration tools can have a significant impact on your organization.
Work better together.
We'll help you build a next-generation workplace with modern tools that enable your employees to collaborate and communicate from anywhere.