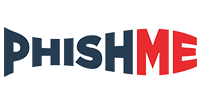 Fight against Phishing
Insight and Phishme will help you proactively combat phishing threats by cultivating your most overlooked asset - your users.
Activate your human defenders
Effectively combat phishing attacks by combining compelling exercises with dynamic, immersive training.
Solutions by Industry
PhishMe's immersive training methods, coupled with industry knowledge and customer experience, to develop an effective security program for your industry.
Return on Investment
PhishMe's innovative training solutions will save your organization time and resources while increasing employee productivity. On average, PhishMe simulated training exercises takes 1/30th as much time as traditional computer-based training.
Enterprise Grade
PhishMe is the only enterprise grade solution of its kind, and has experience accommodating many of the largest multi-national corporations in the world
The Story of a Phish
Take an in-depth look at how a phishing email targets employees and works through your network
Enterprise Phishing Susceptibility Report
An Inside Look at Employee Behavior Pertaining to Highly-Effective Phishing Scenarios