Shop Intel SSD's
Professional Family SSD
Deliver like a Pro. Intel® Solid-State Drive Pro 2500 Series delivers power-efficient performance with enhanced data security capabilities and remote manageability.
Data Center Family SSD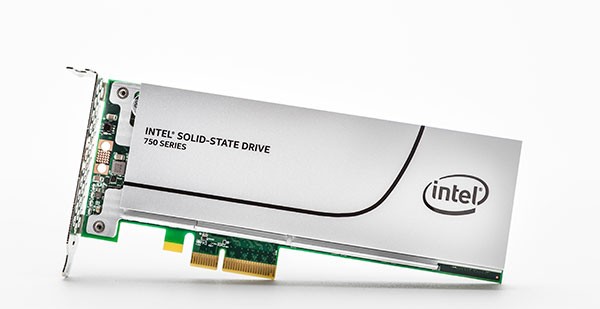 The Intel® Solid State Drive (SSD) 750 Series is Intel's latest SSD for the high performance client and workstation storage market. Intel SSD 750 Series delivers the future of storage today with Intel's first PCIe® based consumer SSD, combining four lanes of PCIe 3.0 with state-of-the-art NMV Express™ (NVMe™) interface for truly amazing performance.
4X faster than a SATA SSD
A direct connection to the processor unlocks exceptional performance with up to 2400/1200 MB/s sequential and 440k/290k IOPS random read/write speeds.
1.2TB storage
High capacity offers flexibility for users running simulations, rendering, or CAD software. Enthusiasts can enjoy fast load times and high-resolution textures for immersive gaming experiences. Store your operating system, games, and captures on one drive.
1st with NVMe™
This is the first consumer SSD to offer a Non-Volatile Memory Express (NVMe™) controller, designed specifically for Non-Volatile Memory drives, and four lanes native PCIe* 3.0.
Featured Data Center Intel SSD's