Introducing the MacBook
Every MacBook® computer comes with impressive battery life, a backlit LED display and a powerful Intel® Core® processor. Choose from a range of sizes, weights and custom configurations.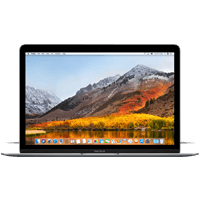 Crisp display
LED-backlit displays deliver vibrant images and stunning visual clarity.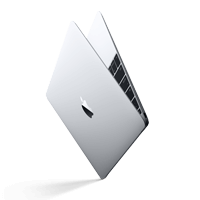 Compact design
Each MacBook weighs less than 5 pounds, making them easy to pack for work or travel.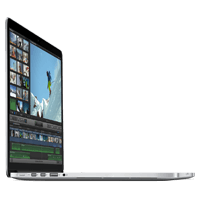 Fast performance
Intel processing, a Solid-State Drive (SSD) and Turbo Boost give you robust reliability.
MacBook Air
The MacBook Air® computer lasts up to 12 hours between charges. Work unplugged all day long. Fifth-generation Intel Core i5 and i7 processors, combined with Intel HD Graphics 6000, make editing photos and browsing the web a breeze.
MacBook Pro
The razor-thin and superlight MacBook Pro® computer. It offers a bright, colorful display. It also features and features the Touch Bar™ input screen, a multitouch-enabled strip of glass built into the keyboard for instant access to the tools you want. Unlock your MacBook Pro in seconds, with the touch of your finger.
The MacBook to fit your working style
Compare MacBook models to find your perfect fit. Customize it for the way you work, with a range of accessories.
Macs in every size

The MacBook Pro 13-inch has a battery life of up to 12 hours and weighs only 2.96 pounds. The 15-inch display gives you a boost of power, with 2.2 GHz, 2.5 GHz or 2.8 GHz quad-core Intel Core i7 processors.

The iMac® computer 21.5-inch comes with a 1TB, 5400 rpm hard drive and a 2.3 GHz dual-core Intel Core i5 processor. If you're seeking a wide screen, choose iMac 27-inch for vibrant images and up to 4.2 GHz of fast processing power.

Customize your Mac.

Boost your audio power and fine-tune your setup. From durable, protective cases and rose gold wireless headphones to basics like power cables and mounts, Insight and Apple have everything you need to personalize the way you work.

Mac Pro and Mac mini

Scale your Mac. The Mac Pro® is configured with either 6-core or 8-core Intel Xeon® processors, giving you speed and performance to do your best work. The iMac mini® offers affordability in a compact, 7.7-inch square design. Connect your display, keyboard and mouse, and you're set.
iMac
The new 21.5-inch iMac® computer is packed with all-new processors, the latest graphics technologies, innovative storage and higher-bandwidth connectivity. It all comes to life on a bright, colorful retina display.
Is Apple right for you?
Work with the most power-packed notebooks from Insight and Apple.