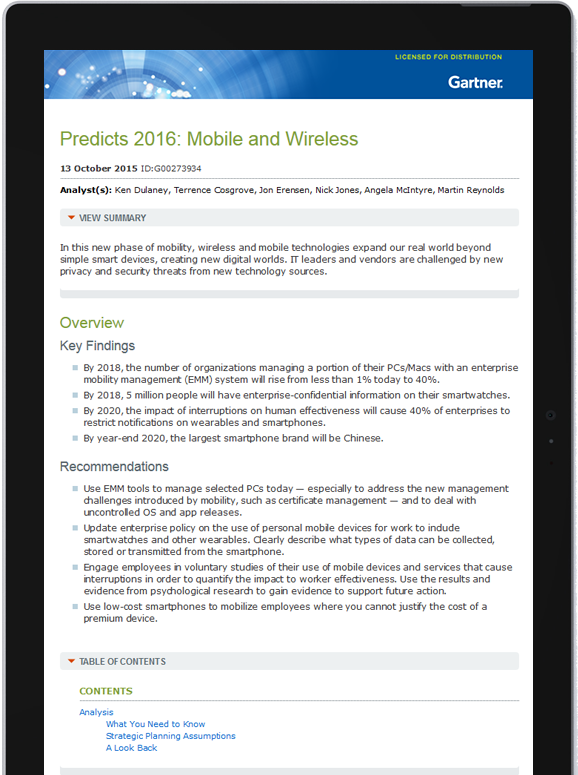 Learn more in the report & enter to win.
Receive the report in your email inbox and enter for your chance to win.
---
By 2018, 5 million people will have enterprise-confidential information on smartwatches.
40% of enterprises businessess will restrict the use of wearables by 2020 due to their impact on work.
Enterprise mobility management system use will skyrocket to 40% of companies by 2018.
---
What will I learn?
Discover how to resolve IT concerns that stem from the increased use of mobile and wireless devices, whether they're provided by the organization or employee-owned.
Topics include:
Enterprise mobility management systems for mobile and PCs
Security issues with smartwatches
The psychological impact of interruptions on workers
Implications of China's increased smartphone market share
You could win.
Become a master creator with XYZprinting's first open-source filament printer. The da Vinci 1.0 Pro offers wireless connectivity and other features, including:
New aluminum print bed prevents warping.
An intuitive calibration system ensures consistency.
An auto-loading filament system for convenience About the author
For more than 35 years, Gartner has been the leader in information technology research and advice. Gartner analysts provide actionable insight that business leaders rely on to make important decisions.
Learn more in the report.
IT leaders are expected to rapidly address the changing mobile and wireless landscape. Find out ways to resolve the challenges that come from our mobile world.