Rethinking printing
From easy deployment to simple, effective security, you'll be surprised at how your printers can contribute to your business. Modern printers transition from cost centers to productivity partners. 
Print security protects your data.
Your printers are endpoints that need to be protected. Today's printers have advanced features that safeguard your data from the inside and outside:
Set-and-forget security
Intrusion detection and whitelisting
Secure cloud access
What's your security exposure?
$7.7 million is the average cost of cybercrime per year. See if you're at risk. Watch our interactive video and answer a few simple questions to find out if your printers are protected. 
Save money, thanks to new advancements.
Printers may be workhorses, but advancements in design — including how ink is distributed onto paper — make them less expensive to own and operate. Now, you can:
Get exceptional color quality.
Print faster.
Use less energy.
We'll help you get the most from your printers.
We work with the top brands to provide a better way to manage and optimize your print workflows, tailor solutions for your organization and help you capitalize on innovation to lower costs.
Privacy, mobility & a lower carbon footprint
Upgrade to the newest printers to keep your data safe and your costs low. And gain a host of additional benefits, such as privacy, energy efficiency and greater mobility.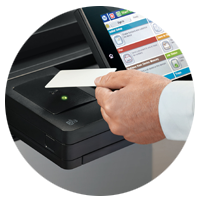 Privacy for all
Don't take chances with private data. Security features with on-demand options block prying eyes and protect information.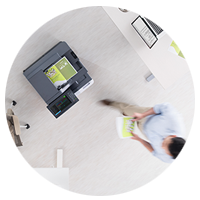 Energy efficiency
Take a load off your energy usage with printers that are engineered to keep your carbon footprint low.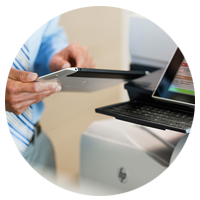 Mobile printing
Many printers let you print directly from your mobile device, whether you're in the office or on the go.