Manage and secure your mobile workforce.
Insight's unique solutions provide the products and services required to address your most critical mobility challenges today and tomorrow.
Whether you've implemented Bring Your Own Device (BYOD) or Choose Your Own Device (CYOD) policies, you need to enable your mobile workforce while keeping employee data safe. Our customizable services enable solutions that evolve with their needs.
Create better work experiences.
With countless applications for multiple roles and tasks, giving workers access to what they need means they can do their jobs better and more efficiently.
We'll help you distribute the right enterprise applications to the right people — while ensuring maximum performance from anywhere, on any device.
You need mobile security.
About 40% of large companies are not taking proper precautions to secure the mobile apps they're building for customers.1 With increasing cyberthreats, that means it's more critical than ever to build a strong security strategy.
A mobility strategy that drives results
Leverage our 27+ years of industry expertise to master every moving part of your enterprise mobile strategy.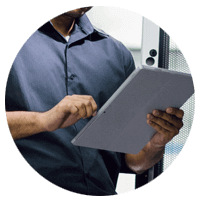 End-user support
Mobile workers' expectations have evolved. Ensure faster troubleshooting and resolution to meet their demands.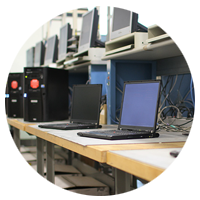 Deployment & activations
Leverage our ISO 9001:2015-certified labs to securely and efficiently test, activate, configure and deploy your devices.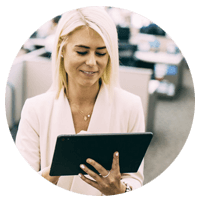 Security & policies
Ensure work-related content complies with your policies, while maintaining and upgrading device security software.
Scale your enterprise mobility strategy.
Hear from our experts as they share best practices to support your device strategy.
Help your workers thrive.
See how we can help you securely manage mobility to empower your workers and focus more on your business.
1 Ponemon Institute. (2015, February). The State of Mobile Application Security.