Build the cloud that's right for you.
Selecting the right cloud for your business depends on many factors. We'll help you build the ideal infrastructure with your objectives in mind. Are you considering Infrastructure as a Service (IaaS) or Platform as a Service (PaaS) in your cloud portfolio? Insight is your guide.
Migrations from your data center to the public cloud are a breeze. Never worry about running out of space again. And with the public cloud, you only pay for what you need.
Your one-stop shop for public cloud services
With Insight, your analytics, computing, networking and storage needs are all in one place. Our architects and consultants partner with industry leaders, such as VMware, Microsoft Azure, Amazon Web Services (AWS) and IBM SoftLayer, to migrate your business seamlessly into the public cloud.
What is public cloud?
In the public cloud, your computing and data are hosted on external servers and delivered over the internet. Servers are managed by cloud service providers who bill based on usage.
Top marks in security and accessibility
Stay protected in the unlikely event of a data loss or total outage. With Disaster Recovery as a Service (DRaaS), your business will remain resilient and stable.
Just because your most valuable assets are safeguarded in the public cloud doesn't mean they're out of reach. Self-service functionality allows you to request or configure servers and launch applications remotely.
An all-inclusive IT solution
Our cloud offerings give you the freedom to pick and choose where your data is located. Hybrid cloud services match the right job to the right cloud so you can rapidly deploy and test new initiatives. Each application properly allocated means you gain flexibility and control.
Getting your public cloud up and running
Responsive and secure infrastructure is critical to business success today, but before adopting new technology, you need to ask: Do we have the proper foundation in place to support it?
Networking assessments
Do you have the bandwidth necessary to handle the public cloud? Our networking solutions bolster productivity and connectivity.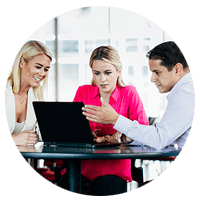 Collaboration and rapid deployment
On-demand cloud computing spurs collaboration, and DevOps tools help teams deploy features, prototyping and debugging.
Enterprise architecture
Established blueprints guide your organization to reach its goals. Cloud services increase your security, reliability and elasticity.
Reach for the cloud.
Discover how Insight can help your business run smarter, faster and more cost-effectively in the public cloud.