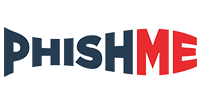 CBFree Compliance Modules
DOWNLOAD
Thank You for registering, lets begin!
Thank you for registering for the FREE download of our security awareness Computer Based Training (CBT) modules! PhishMe is excited to present our library of security awareness CBTs that includes 15 modules that were developed using the latest eLearning
techniques and trends that promote substantial engagement by the pupil. Each module takes 5-15 minutes to complete, with an optional 5 minutes of interactive Q&A.