 Microsoft Teams
Work like your team is in one room — from collaborative sessions to large broadcasts to dialing in to a conference using your phone.
Designed for the user experience

Teams Rooms extends beyond the capabilities of Microsoft Teams, with intelligent new features like one-touch join, content cameras for sharing physical whiteboards, and tools for proximity like the ability to transfer the room into a Teams meeting from your personal device.
Inclusivity above all
Teams Rooms is easily managed from one place with reimagined meeting room experiences that are fully immersive and driven by collaboration. Completely native to your device, Teams Rooms has an expansive device portfolio that integrates form factors across Android and Window operating systems.
Embrace a communication hub.
Part of Office 365®, available from Insight, Microsoft Teams™ centralizes all aspects of team collaboration — including conversations, apps, projects and content — in a single platform.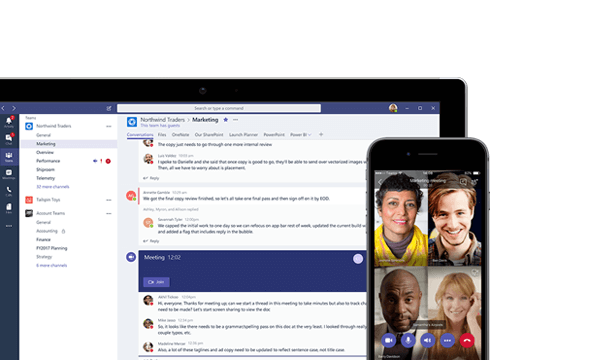 Connect
It's easy to chat or call with online meetings, meeting spaces, live broadcasts, audio conferencing and more.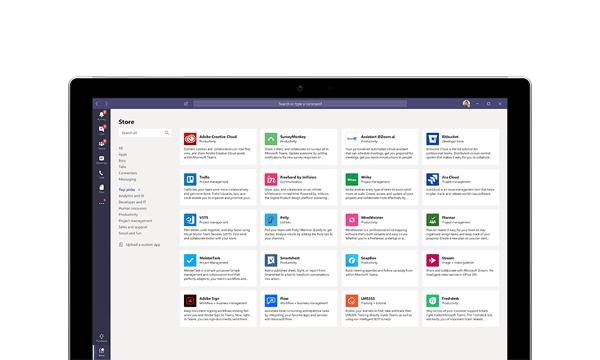 Cultivate
Tailor Microsoft Teams to your particular environment to enable fast, seamless communications and teamwork.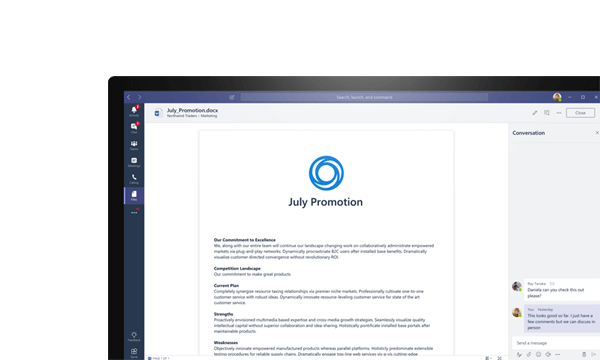 Contribute
Participate with others on your team through shared Word, PowerPoint®, Excel, OneNote® and other software files.
Take advantage of Microsoft Teams features.
Designed to empower teamwork, the collaboration software provides numerous benefits. In addition to chat and video calling, you'll gain unlimited messages and search, integrated apps and services, screen sharing, data encryption, user and shared storage capacity, and more.
Crystal-clear conversations
Microsoft Teams easily integrates with Private Branch Exchange (PBX) phone systems and calling plans to enable reliable person-to-person calls in the cloud. It's simple to add video or content sharing to any call.
The software connects to a number of devices for seamless communication, including:
Desk and conference phones
Meeting room systems
USB and Bluetooth® devices.
Enterprise-grade security
Rest assured your conversations and information are protected. Because it's part of Office 365, Microsoft Teams includes built-in multifactor authentication, secure guest access and other security measures.