HP print security
Get solutions for your HP® fleet that streamline deployment, monitoring, security and compliance.


Leave no endpoint unchecked.
Even with the most rigorous security measures, printing and imaging devices are often forgotten. Yet these endpoints are still advanced enough to expose not only the device, but also your entire network.
Insight and HP will protect your print and imaging endpoints with a range of solutions — from software that runs on your network to built-in programs that run on your device.
Protect every printer.
The award-winning HP JetAdvantage™ Security Manager streamlines deployment and monitoring of your HP fleet. So you'll reduce security risks, control costs and improve compliance across your entire network. Gain:
Simplified print security policy creation
Reduced IT administrative overhead
Automated assessments and remediation
Improved fleet status reports
Maximize built-in security.
HP JetAdvantage Security Manager works with the security features already embedded in many HP printing and imaging devices.
HP SureStart
Automatically validate the boot instructions of your device and block an attack before it causes damage.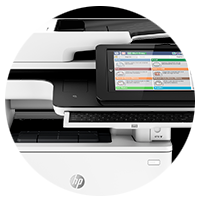 White-listing
Ensure only digitally signed code by HP is loaded into memory. If there's an anomaly, the device reboots.
Runtime intrusion detection
Detect abnormalities during complex firmware and memory operations. If an attack occurs, the device will reboot.
Print security in action
Safeguard every endpoint in your company and monitor security compliance on an ongoing basis. See how with HP JetAdvantage Security Manager.
Assess your vulnerabilities for free.
How do you know you need a print and imaging security solution? Insight and HP offer a no-cost, no-obligation assessment for up to 20 HP printers and imaging devices.
Talk to an Insight print security specialist to get this and:
A free trial of HP JetAdvantage Security Manager
Installation and configuration assistance
1-hour results and consultation
View printing analytics with ease.
Get a 360-degree view of your print environment with HP JetAdvantage Insights, an intuitive printing analytics tool. Easily understand costs and user behavior for every printer in your fleet.