Monitor and track everything.
Apple Watch® monitors your health by tracking your activity and measuring your workouts. It all happens in an instant, thanks to a dual-core processor and the powerful new features of watchOS® 4.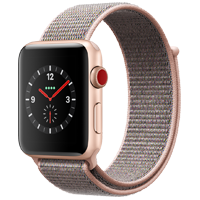 Watch every step.
Track your movements and your downtime. Monitor your physical activity down to the minute. Share your progress with your friends.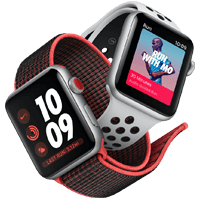 Measure workouts.
Choose your activity from a variety of indoor and outdoor options, and then get moving. Your movements are accurately tracked.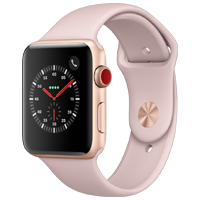 Monitor your health.
Use Apple Watch to manage your stress and gain insights into your health — and receive daily summaries of your heart rate.
Experience BlueMetal services for Apple Watch.
In every organization, applications are imperative to help workers be connected, productive and collaborative. With help from BlueMetal, a division of Insight, workforce applications are easy to add to your organization's toolbox and simple to incorporate with your users.
Give your employees a seamless way to use workforce applications, with instant connectivity no matter where they go. Apple Watch can incorporate your applications and deliver them to your workers — all with the assistance of BlueMetal services.
Experience the Apple Watch Series 3.
Interact with your apps anywhere — no phone required. The Apple Watch Series 3 lets you stay connected wherever you are, no matter what you're doing. Answer calls or ask Siri® to send a message. Stream songs and set reminders, all phone-free.
Lost? No problem. Find your way home with GPS and directions from your Apple Watch Series 3, without your phone. Siri can set a reminder and send a calendar invitation, all from a voice command. And, stream your favorite music and get alerts and notifications from your apps.
Select your color.
Apple Watch bands come in sport, sport loop, leather and stainless steel options, with a variety of metal options that include:
Space grey
Space black
Stainless steel
Silver or rose gold aluminum
watchOS
The latest operating software in Apple Watch gives you personalized performance. With faster app responsiveness and systemwide improvements, watchOS works better than ever to provide a seamless experience right from your wrist.
Is Apple right for you?
Stay connected without dependence on your iPhone, with Insight and Apple.