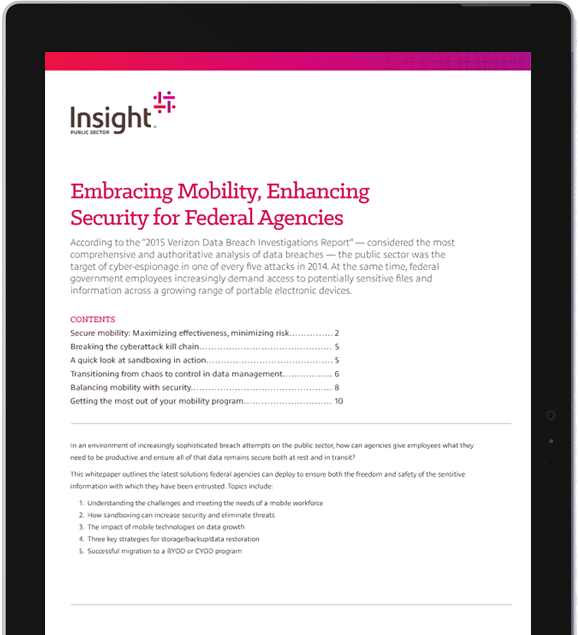 Learn more in the whitepaper.
Complete the form to have the whitepaper sent to your email inbox:
---
more than 94 million records, are estimated to have been lost or breached since 2009.
$194: Average cost per compromised record for organizations in the United States1.
Personally Identifiable Information jumped from 10.4M in 2009 to 25.6M in 2013.
---
Who is the whitepaper for?
The whitepaper has been written with federal government agencies in mind, but the advice and examples will also interest those companies or organizations where employees increasingly demand access to potentially sensitive files and information across a growing range of portable electronic devices.
What will I learn?
This whitepaper outlines the latest solutions federal agencies can deploy to ensure both the freedom and safety of the sensitive information with which they have been entrusted.
Topics include:
Understanding the challenges and needs of a mobile workforce
How sandboxing can increase security and eliminate threats
The impact of mobile technologies on data growth
Three key strategies for storage/backup/data restoration
Successful migration to a BYOD or CYOD program
Table of contents
Secure mobility: Maximizing effectiveness, minimizing risk
Breaking the cyberattack kill chain
A quick look at sandboxing in action
Transitioning from chaos to control in data management
Balancing mobility with security
Getting the most out of your mobility program
About the author
Consectetur adipiscing elit, sed do eiusmod tempor incididunt ut labore et dolore magna aliqua. Ut enim ad minim veniam, quis nostrud exercitation ullamco laboris nisi ut aliquip ex ea commodo consequat.
Learn more in the whitepaper.
Every mobility management program has its own intricacies regarding security and data requirements. Agencies that rely on Insight for planning and implementation can expect a number of concrete benefits.
1 According to the Ponemon Institute's annual study.