9 Compelling Reasons for Small Business to Virtualize
There was a time when each business IT application was homed on its own dedicated server — maybe with its own name: Gandalf for e-mail; Borg for the file server; Cagney for the data warehouse. But as data centers got bigger and the number of servers multiplied — got stacked onto racks and morphed into blades — sharp-eyed IT technology staff began to realize that while some of their servers were at capacity, other servers had resources to spare.
And thus came the birth of virtualization (or the re-birth, depending upon whether your historic perspective includes mainframes) and the ability to share computational power, memory and storage more efficiently through configuring multiple virtual computers sitting on a common host platform.
Virtualization is more than just Virtual Desktop Infrastructure (VDI), by the way. Many of us know the term popularized by VMware and equate the two. Virtualization includes much more, like server, storage, network, and applications in addition to desktop.
Virtualization also often gets confused with private cloud, and the terms are often used interchangeably. But they're not the same. In the simplest terms, virtualization powers the cloud. See our chart below, or a full in-depth infographic powered explanation here.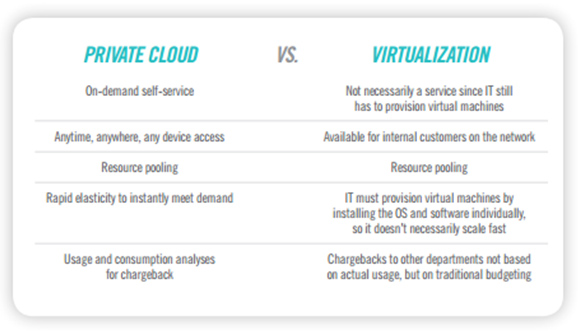 Virtualization is not exclusive to the enterprise.
While virtualization was first embraced by enterprise operations, it soon became clear that the same value proposition held substantial benefits for the small to medium business as well, per an article in Business News Daily:
"Virtualization isn't just for large corporations and enterprises. Although many virtualization solutions are catered toward bigger companies, there are several that also let small businesses simplify their IT and provide employees with anytime, anywhere, any-device-access to resources."
The value proposition is driving lots of projects, per this Computerworld finding:
"Tech professionals participating in Computerworld's Forecast 2016 survey said that they expect to see more money budgeted for virtualization projects over the next 12 months. 35% of those polled said they were increasing spending on virtualization efforts, while a combined 64% said they were beta testing or piloting some kind of virtualization — be it desktop, server, storage, mobile or network."
Here's why you should virtualize now.
Virtualization benefits are so compelling that you should be moving your organization toward it as soon as possible. Yes, there may be some initial cost involved, and yes, IT solution budgets tend to be tight these days, but the case you can present to top management is too compelling to ignore.
Virtualization is particularly valuable to midmarket businesses because of the IT solution value proposition it offers in the form of lowering costs across a range of benefits. This includes saving on hardware investments through greater resource utilization; and reducing systems administration and maintenance costs through having fewer servers in operation.
Benefits include:
Increased agility for IT technology and the business
Better resource utilization
Greater operational efficiency
Enhanced security
Higher availability
Stronger disaster recovery
Improved quality of service
Reduced energy consumption
Preparation for the cloud
As an aside to the third bullet point, when you're stretched to help your workforce be more productive, there are countless ways virtualization can help increase operational efficiency. Here are 12 ways app and desktop virtualization are transforming IT in this infographic.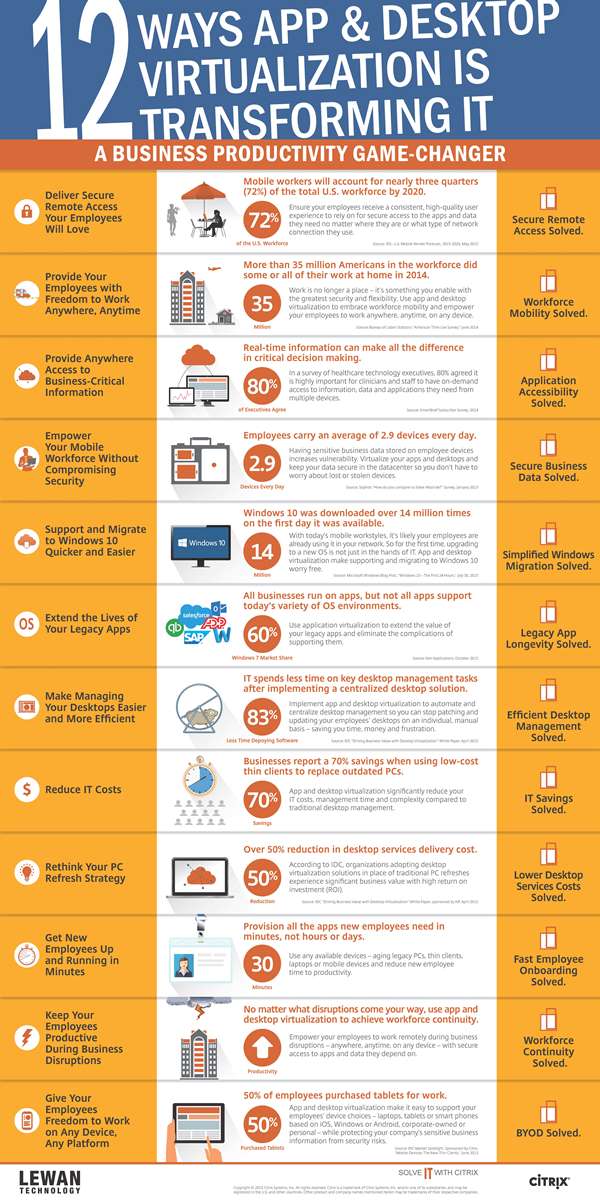 Create a plan.
While there are plenty of reasons to move toward a virtualization IT solution, it is important to do so with a solid plan in place, one that includes frontend planning and continues all the way through deployment and ongoing resource management. For best results, your journey toward virtualization should include:
Conveying the value of virtualization to stakeholders to ensure strong support
Creating a cross-functional business IT team to ensure needs are met
Working with an experienced partner — who is IT technology vendor agnostic
Investing in frontend planning
Designing your virtualized environment
Planning your deployment
Avoid the do-it-yourself pitfalls.
Along the way there are pitfalls to avoid, including the problems that can come from trying to do this on your own. Deploying a virtualized IT technology infrastructure can be complex. You can save a lot of wasted effort by finding an experienced partner to help guide the way.