5 Hospitality Technology Trends Are Reshaping the Industry
The hotel and tourism industry has undergone much change over the past decade. The role of the travel agency, for example, has primarily become a digitized one. As consumers look to save money, hotel technology has catered to their desires, offering everything from virtual views of rooms to automated check-in and check-out functionality, and even virtual concierges.
These days, travelers expect some form of technological amenities from a hospitality provider or they simply take their business elsewhere. A bad experience goes beyond just losing one customer and can haunt a provider in the form of negative online reviews and peer-to-peer social sharing (of said negative reviews).
But a few hospitality technology trends are helping to reshape this industry. They are being fed by consumer demand, newer innovations and an ever-changing industry that's constantly adapting to its target demographic. The following five hotel technology trends won't be going anywhere, anytime soon.
Tech spending will increase exponentially
According to Hospitality Technology, tech spending for hotels is up. About 62% of spending is allocated to payment and data security. Meanwhile, in-room technology takes second place at 56%, bandwidth is in third place at 45%, and mobile engagement is in fourth place at 43%.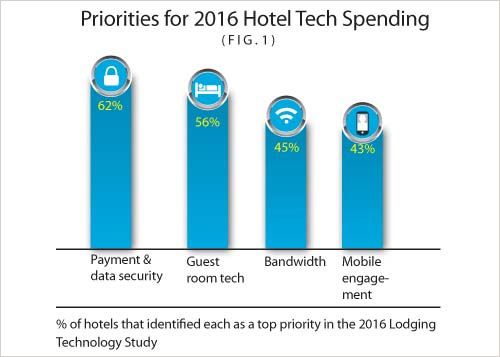 As far as new hotel technology trends are concerned, predictions include location-based technology, front desk tablets, mobile payment options, room control devices, integrated mobile apps for customers, interactive digital signage and more.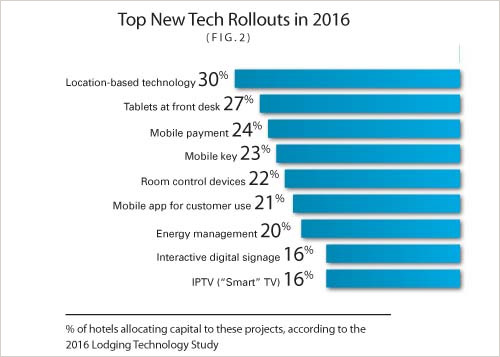 Technology spending at hotels is predicted to increase this year as well. A Wi-Fi 360 report predicts that spending on technology will jump to an all-time high for this year and beyond. About 54% of hotels have plans to increase technology-related spending, with around 6% of revenue being allocated towards such endeavors.
Integrated smartphone apps
Mobile data is one of the hottest hospitality technology trends at present, according to Hotel News Now. This is because mobile keys — keys on smartphone handsets you wave at smart locks to unlock — and data help personalize the travel experience while enabling consumers to shop within their price ranges and at their discretion. What's more, with mobile keys, consumers can simply check in from their handsets. They also have the ability to check out, order room service, buy premium movies, leave reviews and even reserve a table at an on-site restaurant.
More importantly, mobile keys can deliver invaluable mobile data, which can be culled to improve operations and to enhance the guest experience. Many times, these unadulterated customer reviews are more valuable than in-person feedback because there is less hesitancy and more efficacy from the consumer side.
Cloud computing
Overall, cloud computing is easily the biggest trend to ever take over the computing and software industries. So it's not all that surprising to see it make a big splash in the hotel and tourism industries as well. As enterprise-level hotel chains realize cloud computing enables them to synchronize their systems simultaneously in real time, and to update software and management systems instantly, expect more chain hotels to get on board.
In addition, the enhanced security and data protection of cloud technology makes it a smarter choice for hotels. As previously mentioned, the majority of hotel tech spending is centered on payment and data security. With the cloud's unique security amenities, it's no wonder this trend has become more commonplace.
Among the numerous benefits that the cloud offers to hotels, Cloud Times cites 4 primary advantages:
Reduced cost and fewer necessary resources
Faster deployment time
Enhanced security
More accessible data
Hotel CRM and loyalty programs
In recent years, hotel Customer Relationship Management (CRM) has become a stronger option for chains trying to build the customer relationship. This is primarily found to be successful in the ever-popular customer loyalty programs. Newer loyalty programs can cater to customers better by using analytics and other collected data to appeal to the evolving consumer model.
According to Hotel Executive, hotel chains that don't appeal to their younger audience of customers, such as millennials, stand to lose as much as $10 billion in rollover sales annually as customers flock to alternative options. But for chains that pursue the omnichannel customer loyalty program, one powered by an effective CRM system, the ability to retain customers increases drastically.
Smart in-room devices
Smart in-room technology is one of the hottest hotel technology trends of the modern era, according to Samsung. This ranges from smart locks you merely wave your smartphone handset at to unlock (mobile keys), to wireless charging pads, in-room tablets, and smartphone-enabled check-in and check-out options. According to the Samsung report, more than 20% of hotels plan to make investments in smart in-room technology over the next 18 months. These upgrades range from the aforementioned to smart drapes and lighting, smart TVs and even virtual reality.
As technology continues to make waves with consumers, it shouldn't be all that surprising to see hospitality getting on the bandwagon. In the very near future, it's likely you may even choose one hotel brand over another simply because it offers the technological amenities you require for a comfortable stay. As these trends demonstrate, this era is most certainly upon us and is evolving at a rapid pace, one that's equally as exciting.