Insight management
We're led by an accomplished coalition of information technology experts, progressive business strategists, and sales and accounting professionals.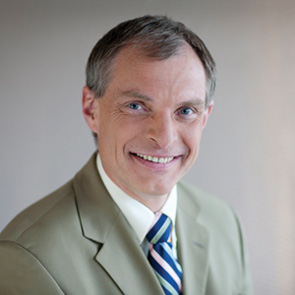 Wolfgang Ebermann
President
Insight EMEA
"As businesses mature, there is a tendency to get internally focused. But you have to start getting hungry and reinventing again. If you don't do that, you're done."
Get to know Wolfgang.
Wolfgang Ebermann always thought he would take over his father's business in the wood industry. So he prepared by studying international marketing and interning at a North Carolina veneer company. But when he found that fostering innovation in the wood market took almost as long as growing the trees to harvest, Wolfgang sought a younger, more agile industry.
Drawn to computers and their growing impact on everyday life, he pursued a career at a company with core values that matched his own. He liked Hewlett-Packard's emphasis on personal empowerment and teamwork. Wolfgang became international account and marketing manager for HP's European Printer Division in 1989. He managed HP's strategic marketing programs with international software companies, securing connections between printers and software products.
One of his strategic accounts was Microsoft. Inspired by Microsoft's entrepreneurial spirit, Wolfgang became part of the company's German senior leadership team, taking over the business unit for Germany/Austria/Switzerland in 1991.
In his 22-year career at Microsoft, Wolfgang's philosophy of personal empowerment and team achievement took him up through the ranks. His ability to foster innovative thinking and encourage organizational development allowed him to take on a variety of exciting executive roles at Microsoft. In 2010, Wolfgang was named Microsoft's vice president and chief operations officer for Central and Eastern Europe.
The same entrepreneurial spirit that drove Wolfgang to HP and Microsoft led him to Insight in 2014. As president of Europe, Middle East and Africa (EMEA) operations, Wolfgang works toward increasing Insight's value to overseas clients. He also leads the build-out of Insight's services arm so that hardware/software and services can serve as the company's twin engines, propelling it toward its most promising future.
Ready to connect your business?
5,100+
software, hardware and cloud partners
4,000+
sales and service delivery professionals
21
countries with Insight operations